Professional Term Paper Writing Help Online – Top-Quality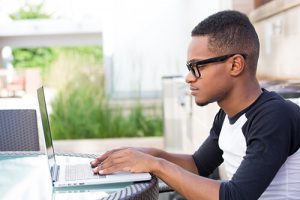 Term paper writing that deserves a good grade takes a lot more than a few hours of research and some words on paper. Time, planning, and above-average writing skills are just a few of the things that are needed to produce an excellent term paper.
A term paper is an analytical task each student completes during their schooling.
With a term paper, a student demonstrates knowledge and skills gained in college or university. A student usually tries to talk in-depth about a topic that was assigned to them. It could be a description of an event, a case study, an idea, or an argument.
A large percentage of your final grade is frequently determined by your performance in term papers. Yet many, if not most, students have never been taught how to write a good term paper in a formal way.
Term Paper Writing is an Essential Study Skill
Term paper writing is now an essential skill for every student. Even a very well-prepared student can give in to the stress of writing a term paper if he doesn't know how long it should be.
Even if the content isn't solid, a well-organized term paper makes a good impression because it's easy to understand. The way you write is a big part of making a good impression on the examiner.
Students' ability to express ideas clearly and work well under pressure is tested to its fullest extent by term paper writing. Most term papers require the student to convey their own opinions, thus testing their creativity and writing skills.
Tips to Write a Successful Term Paper
Make Certain That You Have Enough

Time
A day or an hour won't be enough time to do this assignment. Some students make the mistake of jumping right into writing their papers. This is a mistake made by novices. You might think you've made a lot of progress if you've already written a few lines. However, these proposals will be weak and pointless.
Any work requires time. Consider it a project with specified objectives. You can divide an assignment into several milestones and give each due date.
Hiring a professional writer is an option if you know you won't be able to finish the assignment on time. A professional paper writing help writer is more experienced at fast-tracking the process of writing the term paper for you.
Make an Outline to Get Things Started
At this point, you've amassed adequate information. We understand if you do not know what your next step should be.
A paper outline gives you a sense of direction and control. This is your plan, which spells out every step of the writing process. It also makes it easier to keep track of your time and information.
When everything is finished, you can go back and compare the final product to your original expectations. If you have prepared a high-quality outline, you can quickly evaluate which portions of the paper are needed and which are just filling the space.
Use a Firm Tongue
You must competently write the term paper. You've done the research, gotten enough information, and figured out what it all means. Any uncertainty indicates a lack of competency on your part.
To avoid this, pay attention to your writing style. Formal academic writing is characterized by the use of an active voice, professional language, and the absence of filler words. You shouldn't write something irrelevant to the task.
Don't Overlook Proofreading
Remember how we stated that writing a term paper is time-consuming and difficult? Students generally dislike this. They spent a lot of time writing each part of the term paper, but they don't want to go back and fix any mistakes.
It's hard to anticipate how many errors a piece of academic writing could include if you haven't encountered them yet. Typos and other errors can slip past even the most literate readers. Even if you are perfectly skilled, your readers may begin to doubt the quality of your work as a result.
Thoroughly and carefully proofread the document. Wait a few days to do this, because your mind shouldn't be tired.
How to Write an Outstanding Term Paper Step-by-Step
Pick a topic that interests you
To the extent that you're given the option of picking your own, don't hesitate to do so. Choose a topic you're interested in to make writing easier; attempt to select it based on questions you want to be answered. Once you've chosen a topic, narrow it to something you can complete within the time and space limits. Narrow your topic to something that fits the paper. If the topic is already decided for you, look for unique angles to set your work apart from others. Finally, whichever viewpoint you select, it should be original and perceptive so the reader is drawn in and interested.
Take the time to research
It's futile to start writing until you've done your research. You must comprehend the topic's history, present thinking, and future research needs. Avoid rehashing information you already know well or you won't learn anything from research and writing. Enter research with a sense of adventure and an openness to learning new things and solving old issues. Use both primary (original text, document, legal case, interviews, experiment) and secondary sources when researching.
Refine your thesis statement
After researching, reevaluate your topic. At this point, it's important to pinpoint the single, strong topic you'll be covering, your claim that you can support throughout the paper and that tells a reader what they're about to learn and be provided a valid conclusion. Your thesis statement is the idea you'll defend in subsequent paragraphs. Half-baked paper is flavorless. Construct a thesis that your study proves is interesting to you so defending it won't be boring. Once your topic is clear, write your first draft.
Create an outline for the paper
If you prepared adequate information, structure it correctly.
Think of section headings, then distribute data. Make sure you utilize them equally and don't overburden paper. Although it's rare, there are some people who can work on a term paper without going through this phase. An outline helps you know where you're heading, just like a road map does. Like the paper, the outline is flexible. It gives you structure and a framework to fall back on if you get lost mid-document and serves as the skeleton of your paper; the remainder is filling in the details.
Write your introduction
Avoid making the introduction paragraph a hurdle. This part is crucial, so pay attention. This is the part of the paper most likely to be rewritten as direction, flow, and outcome change. To achieve your goals, write them down. In the introduction, you should also discuss your topic's relevance and research methodologies. Use other info to make the intro engaging. Then writing a term paper will be easier because you'll have a firm foundation.
Your body paragraphs [the meat of your term paper writing] should persuade the reader
Make sure each paragraph adds something unique to your case. Not sure whether your body is up to it? A list of evidence that supports your thesis can be constructed by focusing on the first sentence of each paragraph.
It's here that you'll need to expand on the topic and sum up the information in the most comprehensive way possible. Ensure that the paragraphs are linked and complementary to one another.
Conclusion
New information is not required in this section. Answer the issues you posed in the paper, summarize, and demonstrate the significance of your paper term for contemporary science.
Finish with a bang. Try the ROCC technique:
Rephrase your thesis statement.

One significant detail is usually found in the last paragraph.

Conclude; bring to a close.

The clincher: The part of a story where you leave the reader with something to think about.
Term Paper Writing Mistakes to Avoid
Using questionable sources: A professional standard means that all of the resources you use in your work must be credible. Newspapers and magazines can be used to get information.
Plagiarism: Plagiarism is the practice of using someone else's ideas or expressions as your own without giving credit to the source. Correct citation style and documentation of external sources must be adhered to.
Your claims are not backed up by evidence: You should always be able to back up your claims with evidence, whether it's from a source or your own research.

Passive

voice, nested sentences, and repetition: It's critical that the writing be unbiased, precise, and correct.
Topic selection was far too broad: As a result, it will be difficult to stay within the word count while still conveying the message effectively. You'll have too much information on the topic. A narrow topic is needed for an excellent term paper.
Inadequate proofreading of the document: Sometimes, even a single round of revisions isn't enough. Don't rely just on the computer's spell-checker. Request that a friend or another person proofread your paper.
FAQs about Term Paper Writing
How do you decide what to write about in a term paper?
Your focus should be narrowed down. It's important to know what your paper is about, but also what it isn't about. As everything is intertwined, you must decide which topics your paper will not touch on before you begin writing.
About how many pages should an excellent research paper have?
Rubrics or assignment descriptions must include minimum and maximum word counts or page counts (excluding the covers) for each section of the paper.
What should my term paper include?
An abstract, introduction, body paragraphs, and conclusion are all necessary parts of a term paper's structure. Don't forget to provide citations in your work.
How do I organize the ideas for my term paper?
Before you start, be sure you know the topic you'll cover and whether you have any flexibility if your work ends up on a close but different topic. Make a visual of your ideas by writing them down. When utilizing the visualization to think about each topic, try to organize them in the order of how you will deliver them. Once you have a general idea of what you want to accomplish, write an outline. In this way, you can check to see if your thoughts are in the right place.
Do I need to incorporate photos into my term paper?
No, unless you specifically request it, photos should not be included in your term paper.
For a term paper, how many references are appropriate?
The number of citations needed for a term paper depends on the discipline and the topic, but experts recommend at least five and no more than ten.
Get Professional Term Paper Writing from Best Industry Experts
Term papers are critical to your education. The desire to have everything perfect is understandable. However, it is not always the case that students have the required time and expertise to complete this assignment.
Using our term paper writing service is a good option in this situation. We only hire professionals to write term papers for our customers. They have great English, advanced degrees, and writing experience. Contact us with your term paper topics, requirements, and ideas, and we will be glad to assist you.
Even if you've never used such services, you should know they're the best option for students who require urgent assignment help. You can get help with term papers from ReliablePapers.com for any subject, discipline, and school. Our professionals can help you choose a topic, write missing paragraphs, and revise your initial draft.
Get a unique, polished term paper on time and enjoy life!